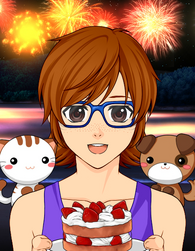 Patrick Cordery Jr. (Pumpkinhero) is Pumpkinhero2's Youtube channel.
Channel Description
"
I play Sims 3, Sims 4, Spore, ROBLOX, and do random stuffs. I will do a face reveal at 1,000 Subs.

Origin ID: ToriAndPatru

Steam ID: Patrickpumpkin (aka MY HAND IS A DOLPHIN)

Moniter: SAMSUNG SyncMaster SA10 (Windows 7)

Computer: Dell

Console: Xbox 360

Yandere Simulator Fanon Wiki: Pumpkinhero2

Schedule: None (yet)Note: I'm not skilled at making custom thumbnails so don't ask.

Another Note: I don't take friend requests on Roblox now. Just follow me! :)

NOTES FOR DAYS!!!: For now I'm staying at my grandma's house because of me moving. So, Im using a Acer laptop. So, sorry if the videos are lagging.

"
 

— On the about section on the channel.